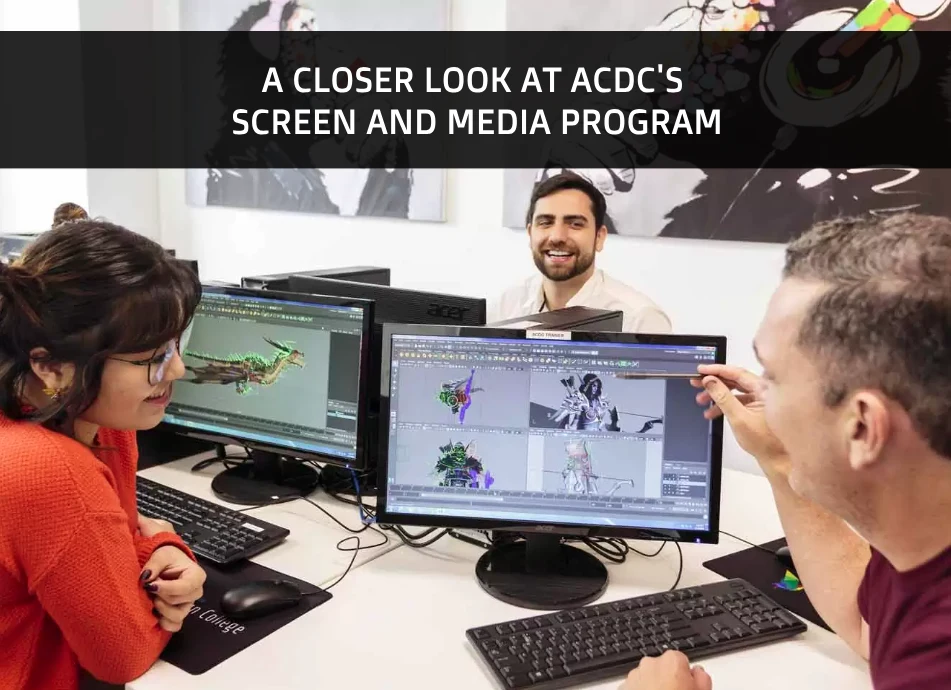 06 Oct

A Closer Look at ACDC's Screen and Media Program

In the age of rapid technological growth, the screen and media landscape demands skilled professionals who excel in both conceptual and practical aspects of production. Students passionate about screen and media will find the Australian City Design College (ACDC), a prominent international school in Melbourne and Adelaide, the perfect school for a diploma in the field. Through our screen and media program, students will shine across diverse sectors—film, television, or graphic design.

Are you passionate about working in screen and media and want to be at the forefront of the industry's evolution? Then you've come to the right place. Explore the program's core and learn how it serves as a beacon for spirited creatives like yourself.
Why Choose the Diploma of Screen and Media
Many courses are vying for your attention, each promising a promising career trajectory. Yet, it's vital to determine which programs truly align with market demands—not to mention your aspirations.
If you have an inclination toward the entertainment sector, one of the invaluable choices for vocational courses in Melbourne and Adelaide is a diploma in screen and media. Here are some compelling reasons screen and media courses stand out:
Diverse media exploration
A diploma in screen and media takes you on a comprehensive journey through various screen- based mediums, from films and television to evolving digital platforms like social media, gaming, and 3D visualisations. This will help you understand the interplay of commercial and aesthetic elements, cultural dynamics, historical contexts, and theoretical reasoning behind media, enriching your grasp and engagement with these platforms.
Master industry-specific tools and equipment
Taking up screen and media courses paves the way for you to harness vital tools and techniques integral to the media industry. You'll become adept at handling equipment ranging from lighting setups and cameras to sound devices and cutting-edge special effect utilities. Furthermore, the course offers scriptwriting and direction lessons that help you bring original storyboards to life and visualise them on screen.
Enhance your understanding of the entertainment industry
Opting for a screen and media course immerses you in the intricate dynamics of the entertainment sector. You can gain a well-rounded perspective on film and television by tracing their rich history and staying up-to-date with current trends and innovations.
Nurture critical and creative media literacy
Enrolling in a screen and media program at a promising college in Adelaide or Melbourne grants you an in-depth understanding of media's anatomy, from conceptualisation to distribution. You begin to appreciate the craft and effort in each production, enriching your media literacy skills. Creating your content also offers enlightening challenges, augmenting your respect for fellow creators.
With an ethical approach to media consumption and exposure to varied narratives, the program sharpens your analytical lens, promoting informed judgments and a deeper understanding of diverse media stories.
Career Avenues in Screen and Media
Below are just some of the career pathways you can take with screen and media courses:
Web designer – As a web designer, you'll meld creativity with technical expertise, constructing intuitive websites. Beyond layout and design, you'll employ programming code, ensuring users experience digital realms that are both engaging and user-friendly. Whether you want to become a freelancer or embed yourself within a digital-centric industry, your skills will be in high demand.
Graphic designer – Signing up for a screen and media program is also your opportunity to become a maestro of visuals. As a graphic designer, you'll shape compelling concepts that engage audiences through digital software or hand-drawn methods. Your screen and media programs will prepare you to create captivating advertisements, sleek brochures, and impactful magazines.
Independent filmmaker – Indie filmmaking offers a chance to sculpt stories beyond the constraints of major studios. As an independent filmmaker, you can apply your unique voice and aesthetic to every aspect of production, from directing to promoting. This will ultimately infuse your cinematic pieces with an unmistakable personal flair.
Production assistant – As the unsung heroes of the production world, production assistants ensure the seamless running of film or TV sets. PAs are essential to successful production, from preparing scripts to transporting equipment and providing caffeine to the crew.
Dive into the Course: What to Expect
ACDC's Diploma of Screen and Media is designed to equip you with hands-on video editing, design, and visual effects expertise. From editing to storyboarding, graphic design software to animation, we cover a wide range of topics in our curriculum.
Our seasoned trainers will guide you through this journey, bringing real-world experience and industry insights to the classroom. Their extensive know-how ensures your learning remains relevant and in sync with current trends.
On completing the course, a world of opportunities opens up. Whether you aspire to work in art, design, or video editing, the skills you gain here will be your stepping stone.
And for those looking to delve deeper into the subject, our Advanced Diploma of Screen and Media awaits. This diploma also serves as a bridge to related degree courses, giving you a head start in higher education.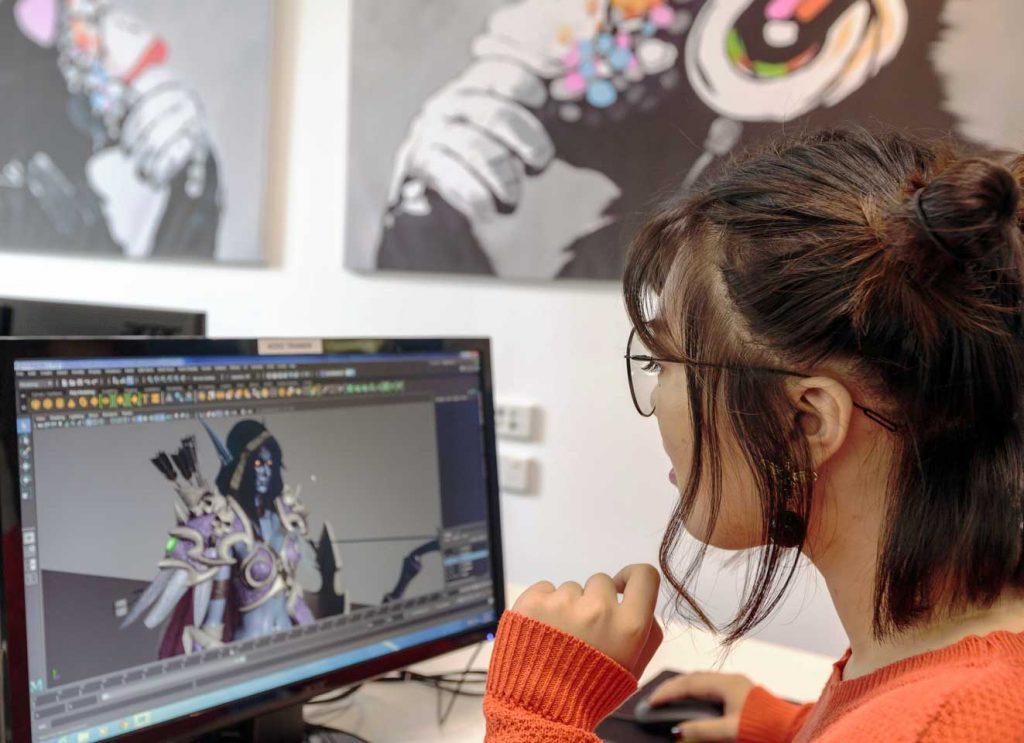 Tips for Upcoming Screen and Media Students
If you're considering a career in the screen and media industry, ACDC prepared pieces of advice that will help you succeed:
Embrace continuous learning – As you embark on your bachelor of film and screen media production journey, understand that the industry is in perpetual motion. That said, always be on the lookout for fresh knowledge and approaches.
Refine your showreel – As a student in a college in Melbourne or Adelaide, you have access to a plethora of inspirations. Regularly update your showreel to reflect your evolving skills and vision. If there's a specific company you're eyeing, you can also align your showreel to their ethos and style.
Expand your artistic palette – Don't restrict yourself to just one artistic style. Embrace versatility and explore various aesthetics. This will allow you to cater to a broader range of projects.
Let passion drive you – Make sure your enthusiasm and love for the craft shine through in every project. Passion often translates to authenticity, which can set you apart in this competitive industry.
Conclusion
In the ever-evolving world of screen and media, selecting the right educational institution is crucial. ACDC, with campuses in Melbourne and Adelaide, uniquely combines practical skills with deep industry insights. By immersing yourself in real-world challenges and fostering innovation, ACDC sets the stage for the next generation of media professionals.
Move Your Career in the Right Direction with a Screen and Media Diploma from ACDC
Are you considering a future in art, design, or video editing? Choose ACDC in Adelaide or Melbourne for a diploma in screen and media. Under the guidance of our expert trainers, gain the skills essential for success in these dynamic industries.
For course structure, fees, and more details, visit our program page. Alternatively, you may contact us at 1300 159 058 or enquiry@acdc.edu.au with any queries.
Also Read: