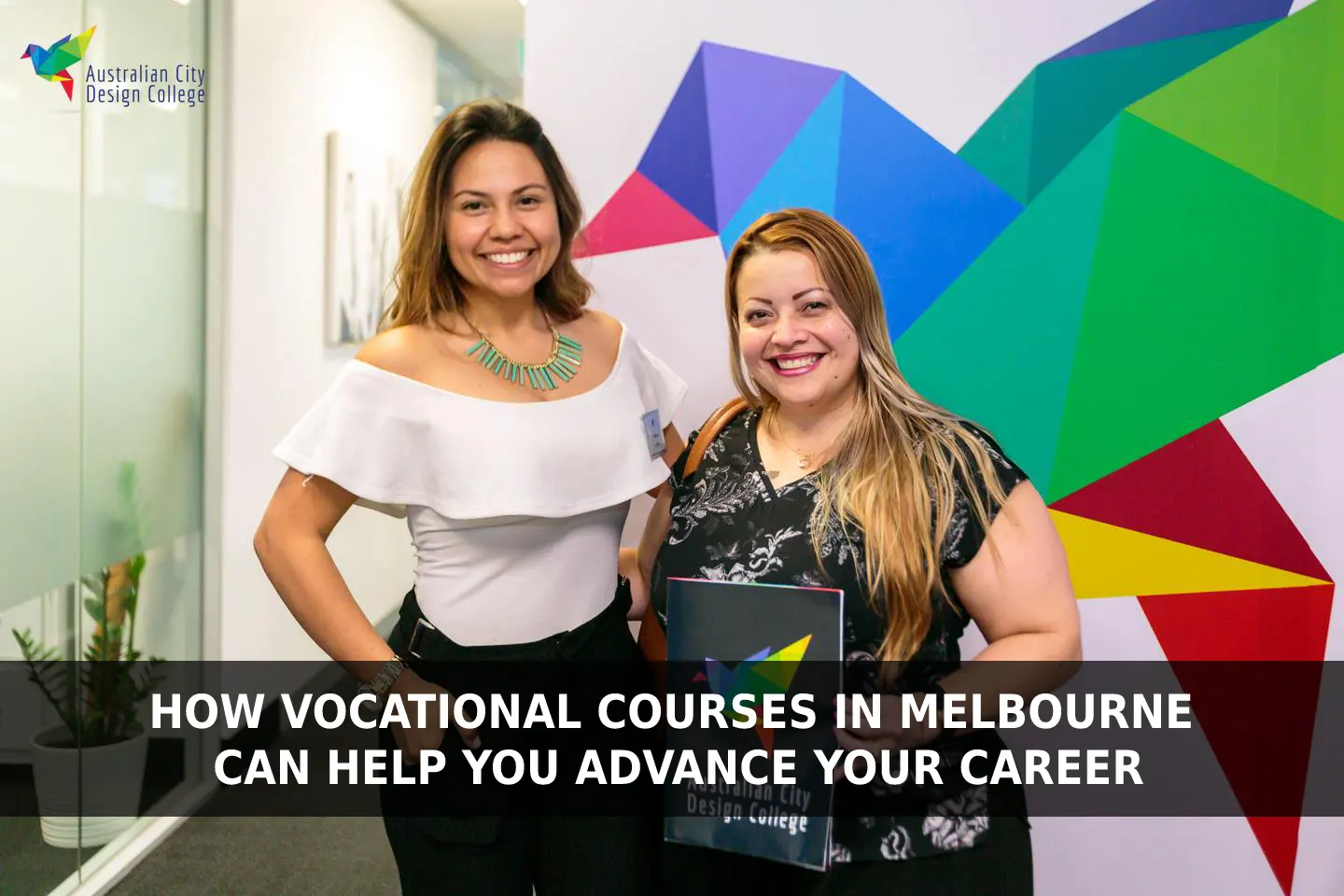 24 Nov

How Vocational Courses in Melbourne Can Help You Advance Your Career

When considering your career path, you must ensure that you're up for the job and have the right skill set to thrive. If you don't possess the necessary skills, you'll struggle in a position you barely understand. Students who signed up for vocational training in national and international schools in Melbourne and Adelaide have reaped some benefits from its courses.

With vocational education, you'll be able to practice your crafts and passion hands-on and transition into higher education seamlessly, all while building your knowledge and feeling more confident after honing your skills and abilities.

If you're contemplating whether you should take vocational courses in Melbourne to find your interests and build your skills, this article is for you. Learn how these training opportunities can be smart career options that will help you achieve your career goals in the long run.
What Is Vocational Education?
Vocational Education and Training (VET) is an integral part of the education system and is a different learning option from the path of universities and colleges in Adelaide and Melbourne. It allows students to gain the practical knowledge and experience to excel in a particular job function or trade. In short, vocational training qualifications focus on specific occupational skills and competencies instead of traditional and unrelated academic subjects.
At the end of every VET program, students receive a certification, diploma or advanced diploma. Some trades a student can pursue with vocational training include dentistry, culinary arts, hairdressing, plumbing, automotive repair, carpentry, and technician. Australia's VET system is coordinated with the requirements of the labour market; it is a partnership between governments and industry.
Many people can benefit from vocational courses in Melbourne and Adelaide, including graduates entering the job market for the first time, individuals returning to work after a career break, individuals seeking to upgrade their skills to switch industries, and secondary students who wish to gain a competitive edge in a career with opportunities aligned with their passion and interests.
How Can Melbourne Vocational Courses Benefit Your Career Advancement?
Here's how vocational training courses can benefit your education and career:
Develop tangible skills
In vocational education and training settings, you will not spend days and hours in libraries and on computers conducting research and writing papers. Instead, you'll spend your time in practical workshops each week to learn hands-on what skill is helpful for your future job and even have the chance to try out your skills while still studying.
Build strong networks before graduating
Almost every industry recognises the importance of having a solid network to find a job and build a career faster. Connections and relationships will allow you to find new jobs, learn about new opportunities, and get better chances to continue your education—building career-based skills.
With a vocation-based education, you can build a solid professional network essential for career advancement. These networks will aid you in enhancing your learning experience and the rest of your professional pathway. You will work closely with your fellow VET students and trainers on your coursework.
As students spend more time in class working on projects and learning practical skills rather than researching and writing independently, they will develop better and closer relationships with their peers.
Establish an international curriculum
Vocational education will also provide various life experiences, allowing you to work with people from different ethnic, cultural, and economic backgrounds. This is especially the case with students from abroad who pursue their skills and education in Melbourne or Adelaide. Vocational courses can make them more independent, resilient, better at communication, and adaptable.
In turn, students will also learn to develop a broader life view, gaining invaluable insight into career paths on a global scale.
Bridge the gaps between work and education
Vocational learning opportunities allow students to enhance employability skills since they won't enter the work field without practical experience regarding the tools and environment in which they will work. Potential employers will most likely take them in after looking at their academic records and determining the type of skills they already have.
Get hired quickly
As briefly stated, studying a vocational course will help you find a job quickly. When you graduate from a vocational learning program, you already have the necessary work experience and practical training for a specific field. Your prospective employer will find that you're prepared to start working in your upcoming position immediately with minimal investment in training sessions.
Become more expert
Again, vocational courses allow you to pursue higher education and certification. With this, you'll be able to nurture your practical skills since you can obtain more specialised knowledge. It will further aid you in seeking a promotion in your current job. Most importantly, you'll be well-equipped with hands-on skills and knowledge to become an expert in your field.
In Summary
Vocational courses in Melbourne and Adelaide provide career preparation and formal qualifications if you want to specialise in a specific area. This could include hairdressing, plumbing, electrician, dentistry, or other specialisations. With this, you can upgrade your skills and boost your career prospects.
Find Vocational Learning Opportunities at ACDC
If you are interested in pursuing vocational courses in Melbourne or Adelaide, Australian City Design College is the right college for you. We have a design school located in both the cities of Melbourne and Adelaide.
We can help you select a vocational course that will improve your chances of employability while at the same time helping you become an expert in your field.
Discover our vocational courses here.