09 Nov

How to find the perfect job in Australia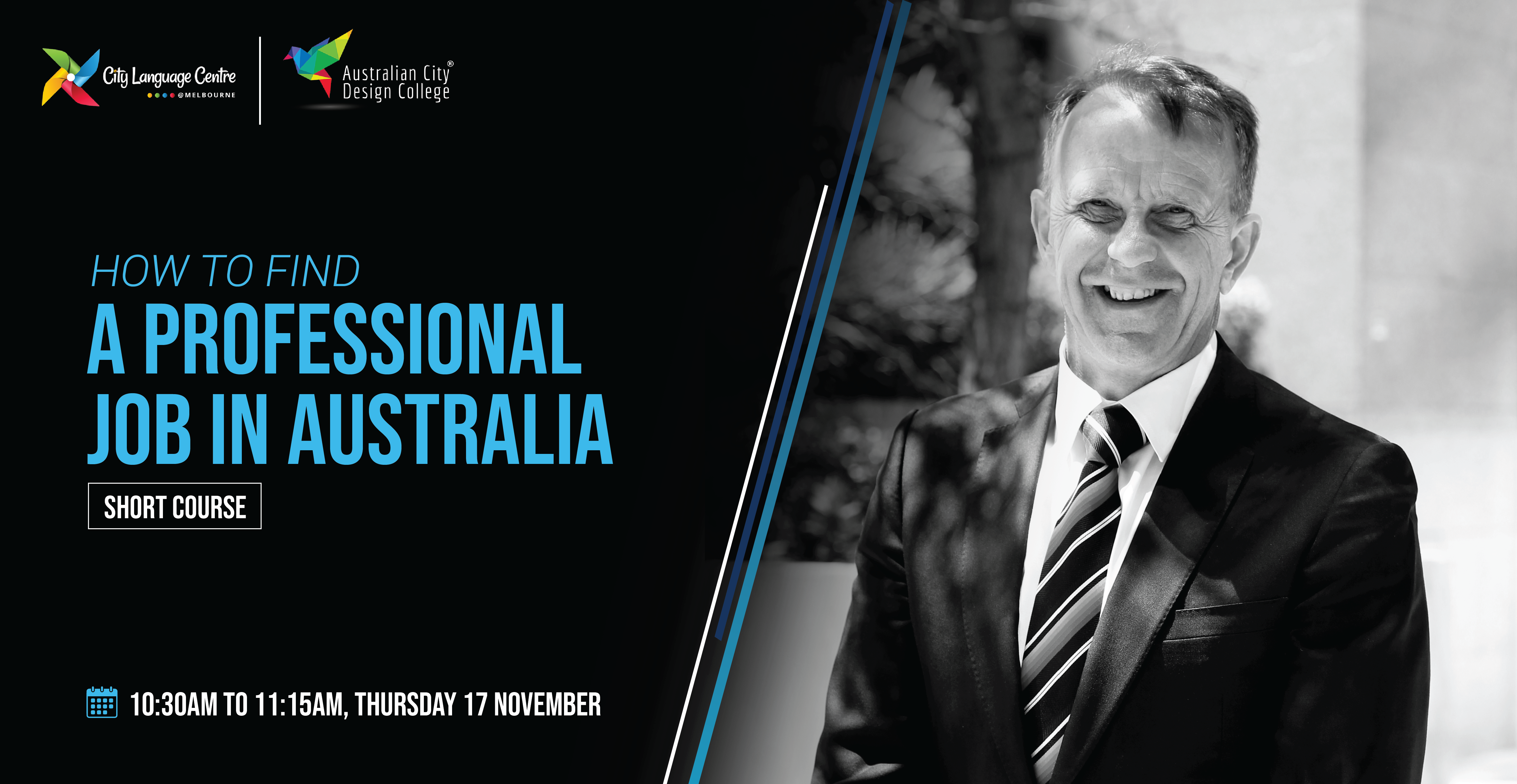 How to find the perfect job in Australia
14
14 people viewed this event.
There are so many exciting employment opportunities available for international students in Melbourne. At ACDC, we are keen to help our students to find the best job opportunities available and prepare their future careers.
𝐉𝐨𝐛 𝐬𝐞𝐦𝐢𝐧𝐚𝐫: 𝐇𝐨𝐰 𝐭𝐨 𝐟𝐢𝐧𝐝 𝐭𝐡𝐞 𝐩𝐞𝐫𝐟𝐞𝐜𝐭 𝐣𝐨𝐛 𝐢𝐧 𝐀𝐮𝐬𝐭𝐫𝐚𝐥𝐢𝐚.
Time: 10:30AM
Duration: 45 Minutes including Q&A – seminar conclude 11:15AM
Date: Thursday , 17 November 2022
Venue: ACDC Level 8 Studio Room
Registration: FREE!
𝐓𝐨𝐩𝐢𝐜𝐬 𝐜𝐨𝐯𝐞𝐫𝐞𝐝:
Where the jobs are in Australia
How to get your dream job
Network your way into your ideal job
How to meet the decision makers
How to write a resume and covering letter that will win you the job
How to be confident in the interview
What to wear to an interview.
The principles and ideas that I will share with you in this program are proven successful ideas that if you apply them to your every day job search activities, will accelerate your career faster than you could image
𝐖𝐡𝐲 𝐲𝐨𝐮 𝐬𝐡𝐨𝐮𝐥𝐝 𝐚𝐭𝐭𝐞𝐧𝐝? 𝟒 𝐑𝐞𝐚𝐬𝐨𝐧 𝐖𝐡𝐲?
The speaker has real life examples and experience.
We deliver current and up to date content. From years of experience of job searching and interviewing candidates; We have developed this program to provide you with the most important and relevant elements for job search success and business success. You will have a great experience and learn stacks.
This program is designed with practical outcomes and actions you can take away during and immediately after the course.
Great location and easy access. Level 8, 343 Little Collins Street Melbourne
To reserve your seat, register now: marketing@acdc.edu.au
𝐀𝐛𝐨𝐮𝐭 𝐭𝐡𝐞 𝐬𝐩𝐞𝐚𝐤𝐞𝐫:
Kevin Egan
Kevin has lived and worked in Australia for most of his professional life. He started his career working on a factory floor. Not satisfied with factory work, he set off on a journey to create a successful life and career. This is a remarkable story of a person who was intellectually, economically and emotionally bankrupt and worked his way from obscurity to personal and business success.
During his career, Kevin has acquired a wealth of knowledge and experience working across various Australian businesses and industries. These include: local and state government, transport and logistics, retail, warehousing, sales, finance and education.
Kevin has held various positions, including senior partner, state and national management positions and senior consultant roles.
He is currently conducting lectures and training for international visitors on Australian business and management practices.
Kevin holds a Master's degree in business administration and is a published author.
Kevin's local business and academic skills make him the ideal author and presenter for this seminar.
Looking forward to seeing you at the seminar.